The Jewish holiday Purim begins the evening of Wednesday, March 20th and ends the evening of Thursday, March 21st. Purim celebrates the Jewish people being saved from Haman's evil plot to kill all of the Jewish people. Purim is known as the "Jewish Halloween." The Jewish people are instructed to read the Megillah, which recounts the story of Purim, give money and gifts to a least two poor people, drink alcohol, eat hamantaschen, and dress up in costumes.
There are many different reasons and explanations as to why people dress up on Purim. One popular reason involves the coincidences and miracles that occurred throughout this time in history. Many of the characters in the story seemed to appear in the right place at the right time. But, through all of this, G-d is nowhere to be found. His name isn't even mentioned in the Megillah. Just as G-d was hidden, we hide ourselves with costumes to commemorate the miracle that was the salvation of the Jewish people at this time. We want to remember that G-d is always there, even if it may not appear as so.
To join in on the celebration, here is a list of easy, classic, and fun costumes to help you get in the purim spirit.
Hamantaschen
Head to your local craft store or Amazon and buy giant pieces of felt or craft foam and cut out two triangles, one for your front and one for your back. Put a piece of colored felt or foam in the center to represent the jelly. Use duct tape or string to attach it to your body. (Image Credit: Pinterest)
---
Mordechai

Mordechai resembles a King. To make these costume you can buy a cheap crown with jewels, make a cape out of a sheet, and glue cotton to a piece of paper and tie it to your chin to resemble a beard. (Image Credit: Creative Jewish Mom)
---
Purim Grogger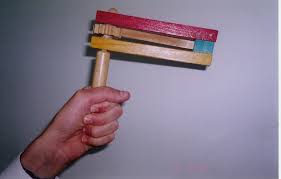 Two pieces of poster board can easily be attached to the front and back of you with string. Use markers and pencil to decorate them with Purim symbols and colors. Add a paper towel to represent the handle.
---
Queen Esther
To dress as the beautiful Queen Esther, get out a nice pretty dress or a long purple t-shirt and add a crown to top it off. Now you are ready for the beauty contest! (Image Credit: Costume Castle)
---
Israeli Soldier
Bring out your army green cargo pants or even an IDF shirt to play the part of the soldier. A hat and toy gun can be the perfect accessory to complete the look. (Image Credit: Pinterest)
---
Haman
---
Hamantaschen Baker

Pull out a cooking apron, sprinkle some flour on your face, and carry a rolling pin or some hamantaschens to add a finishing touch. (Image Credit: Walmart)
---
Although this list includes the most traditional Purim costumes, you can dress up as anything to celebrate this holiday!