UCLA's prestige, location, and admiration for diversity within its student body has made it a highly attractive university for potential attendees around the world. In fact, international students constitute 12.6 percent of UCLA's undergraduate program.
Elinor Samuel: The Tea-Loving Hippophile from London, England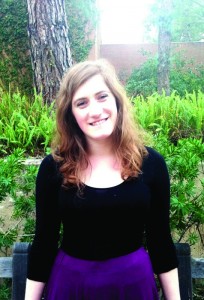 "I was told to pack everything I would want with me on my first day," Elinor said defensively, when she explained how she packed her bags from London to Los Angeles with tea and honey.
Elinor is a second-year student with an Economics and Politics "degree" (London lingo for "major") attending UCLA only for the quarter. Having travelled abroad to countries such as South Korea in the past, Elinor plans to continue traveling the world once the quarter is over. Although she has grown fond of the campus, Elinor's love for horseback-riding has her disappointed in its lack of equestrian opportunities.
Elinor admires the diversity and immensity among the Jewish community in LA, as well as its strong presence. "It's easy to be Jewish here,"Elinor explained. "I didn't notice how few Kosher restaurants there are in London before coming here." In fact, Jewish opportunities that Elinor maintains in LA such as living at the Bayit, UCLA's Jewish Co-op, she would not have in London: "I've never lived with so many people before…everyone has a very distinct personality and it's been very fun to get to know everyone."
Moreover, Elinor explained the anti-Israel sentiment in London: "I'm involved with various pro-Israel things on campus, but I wouldn't write that on a resume or for an application in London." She even attends a Jewish Studies class, but is not enrolled in it so that it does not show up on her transcript.
Pointing out other differences between London and LA, Elinor recounted: "The people in London are a lot more polite…the stereotypes are right." She also notices more language differences than she anticipated, such the word "jumper, " which is a sweater in British English. People habitually mimic her accent and tell her that she sounds classy, which she believes is hilarious and undeserving. "People in LA are also weirdly obsessed with crumpets — they like to ask me if I drink tea with crumpets," she recalled.
Nina Rosenstein: The Multi-Ethnic Lover of Cultures from Berlin, Germany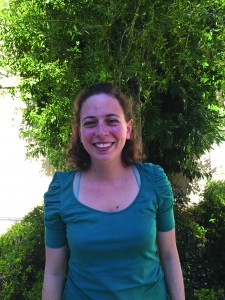 "There are no questions about being a Jewish U.S. citizen, but if you are Jewish and German, your identity is considered something strange."
Nina originated from Brazil but grew up in Germany, most recently residing in Berlin. Having a colorful background as a half-German, half-Romanian Jew who was born in Brazil, Nina finds herself way too often being pressured by others to define herself as being just one thing. "People shouldn't have to decide if they would rather be considered Brazilian, or German or Jewish," Nina argued. "It's okay to be multiple things at once and people should accept that."
Nina is a political science student with junior standing. "I decided to come to Los Angeles because it's a major city of Jewish culture…and being part of the Jewish community, you get the opportunity to connect with people you wouldn't have connected with otherwise," Nina reasoned.
Staying true to her promise to get involved with Jewish life at UCLA, Nina goes to Hillel often and recently even led an event at Hillel titled "Jewish Life in Germany TODAY: Through Our Lens" — an event in which students were shown photographic panels and shared personal stories of Jewish communities in Germany in an open space.
At times, Nina struggled living in Germany as a Jew, but she was able to develop a space for herself within the Jewish community there through the years. Although her grandparents on her mom's side left Germany before the war, Nina's grandparents from her dad's side are Holocaust survivors from Romania. Her grandmother even temporarily hid in a brothel, making a deal with the prostitutes to hide there in exchange for money.
Nina loves spending time watching the sunset at her "secret spot" on the balcony at the Getty Center or going to the Griffith Observatory, and is happy to be missing the excruciatingly cold winters of Berlin this year. She is trying to take in LA as much as possible before having to go back to Germany in March.
Alan Golombeck: The Sushi-Obsessed Fraternity Brother from Sao Paulo, Brazil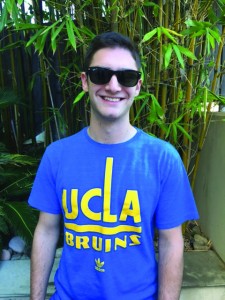 Alan ended our interview with his favorite quote, a quote that I believe encapsulates his optimistic personality perfectly: "We are all in the gutter, but some of us are looking at the stars." ­— Oscar Wilde.
Alan is a third-year sociology major and film minor originally from Sao Paulo, Brazil. His decision to attend UCLA was rooted in his interest to ultimately pursue a career in the entertainment industry, and his acknowledgment at a young age that a life in the United States would be a safer and overall better fit for him, especially coming from an American international school in Brazil.
"I made it my mission to make UCLA my own," explained Alan as he listed the different ways in which he got involved, including becoming a new student advisor and joining the Theta Xi fraternity. Although a bit homesick his freshman year and disappointed in the sushi selection in Westwood compared to that of Brazil, Alan soon found his place at UCLA and even plans to stay in LA after graduating.
"My Jewish identity had not made a great impact on my social life at UCLA up until a few months ago," Alan claimed. Alan's connection to Jewish life on campus is fairly recent, stemming from his trip to Israel through Birthright with Hillel. Birthright allowed him to recognize a sense of community within the Jewish people and a provided a more spiritual understanding of Judaism that sparked his decision to be more active in Hillel by attending more events and possibly taking a Jewish Studies class in the future. He hopes to make his Jewish mother proud.
Looking back at his life in Brazil, Alan remembers the vibrant culture and wide range of cuisine that was available, but there's nothing he misses more than his grandmother's kamish broit (Ashkenazi Jewish cookies). "She even sent some over for my birthday," Alan recalled with a big smile on his face.
Margie Mizrachi: The Girl Who Knows Everyone from Panama City, Panama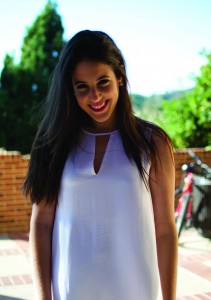 Margie is a second-year geography student at UCLA, widely-known around campus as the "Panamanian Princess." Have you seen how many likes she has on her profile picture? Anyway, Margie loves "basically everything that breathes and thinks" at UCLA and feels extremely lucky and happy to attend UCLA.
Considering the Jewish community in Panama compared to that of the U.S., Margie explained: "Here, Jews are dispersed geographically, while in Panama, most Jews live within a five mile radius of each other." Therefore, her ability to find Jews wherever she travels within the United States is a foreign phenomenon to her.
Margie did not hesitate to get involved with Jewish or pro-Israel organizations on campus and take advantage of every moment she has at UCLA. She is an active member of Hillel, Chabad, the Jewish Awareness Movement and Bruins for Israel, as well as a student of the Nazarian Center for Jewish Studies, an alumna of the Sinai Scholar Society, a Hillel Esther Fellow, and a member of AIPAC on campus.
She vividly remembers struggling to find her way to Chabad on Yom Kippur as a new student: "I arrived here not knowing anyone, anything, or anywhere […] after three hours [of searching], while crying on my way back to my dorm room, I saw a sign that said there were services in Ackerman Grand Ballroom; I ended up hearing a cantor sing with a group of senior citizens. Once the year [school] started, Simcha Torah knocked on the door, and I had an escort walk me to Chabad on Gayley […] That night was a game changer."
One person who has notably influenced Margie and her appreciation for Judaism is her freshman-year dorm-mate, a religious Catholic girl named Liz. Getting to know Liz allowed Margie to cultivate a deep gratitude for her life and a different, more spiritual perspective of her Jewish identity.
Margie enjoys spending Shabbats at Hillel, Chabad, or the Glouberman or Javidzad residences, especially since she loves "any food made by a Jewish mom." "Shabbat beats everything," she explained. "There's nothing better than good food and good company after long and stressful week at UCLA."
Dinah Lohmann: The Eco-Friendly Student of Chinese from Geneva, Switzerland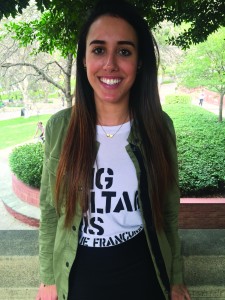 "It was my mazal ("luck") to come here," Dinah explained as she recalled her journey to Los Angeles.
Dinah has senior standing, and has only been here for the past 5 months. Her love for languages led her to double major in Chinese Language, Culture and Civilization and Biblical Hebrew, and minor in Modern Hebrew. Fascinated by ecology and the well-being of our environment, Dinah sees herself working in China in the future in an effort to make the country more eco-friendly.
"Since the day that I got my acceptance letter to UCLA," Dinah explained, "LA was all I talked about." Although she misses skiing in Switzerland, Dinah is most enamored by LA's beaches and their close proximity to her apartment. She even expressed an interest in taking up surfing, "…but then I would have to wake up early," she quickly added with a chuckle.
Dinah definitely didn't hesitate to profess her admiration for Jewish life on campus: "I really love the Jewish community here…it's amazing! There was no Jewish community in my last university…maybe a couple of Jews, but that's it…no kosher food, no Chabad, no synagogue, no Jewish life. What you all have here is truly amazing."
In addition to attending Sinai Scholars classes during the week, Dinah spends most of her Shabbats at the Chabad of UCLA and feels thankful for their support and ability to make her feel at home.
Dinah would also like to advise everyone reading this article to remember to recycle, and to utilize their windows rather than constantly use the car air-conditioning.