"I always knew that we were going to be really Jewish," artist Isaac Brynjegard-Bialik told me. His exhibit, Paper Golems: A Pandemic Diary is currently on display at the Dortort Center for Creativity in the Arts at UCLA Hillel.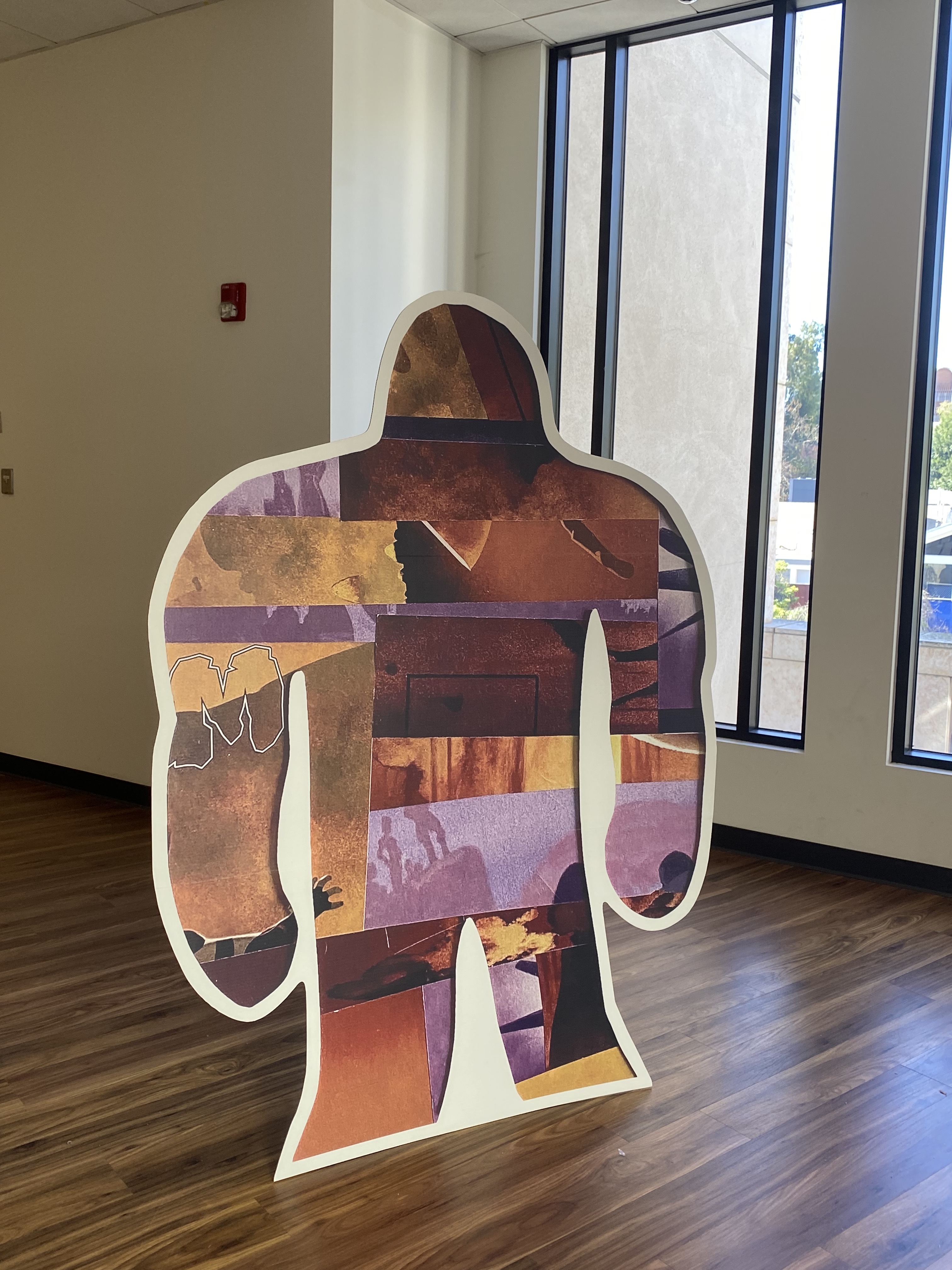 "I've been cutting up comics for 15 years now, bringing them into my paper cutting, " Brynjegard-Bialik said. "When the pandemic started, I was feeling anxious. We had high school kids. Our oldest was off in Israel, and there was all this uncertainty. I was thinking about what Jewish artists do when they are anxious, and I started thinking about the Golem story. We have these stories about rabbis using magic to animate these golems to protect the Jewish community."
Brynjegard-Bialik said he builds through a midrashic process by filling in gaps or adding his own ideas to a Jewish story that forces him to view the story so that he can "cut it up and put it back together." He said the golems weren't going to protect him, but they became an extension of his thought process as the pandemic progressed. The golems became a personal response to the pandemic, a sort of pandemic diary. He described each golem as a response to what he needed to feel better about the events going on in the world.
"All the stories that I'm telling with my art are all informed by Judaism," he said. "I always start with text: maybe it's something from Torah or broader Tanah. All of my work is an exploration of Jewish storytelling. Because I'm so caught up in telling stories through my art, I can't help but think about how this plays into my visual sense, how I would represent this."
Before the pandemic, Brynjegard-Bialik and his wife ran an organization called Paper Midrash, where they traveled around the country to different congregations every month to teach about art, Torah, and Midrash. 
"All of a sudden that was not going to happen," he said. "That was a large part of the way we were Jewish at the time. A lot of it became this Zoom thing. All of a sudden it was the five of us back in the house, and it was like 'how are we going to live let alone participate in jewish stuff?' At Passover, there was a big sense of 'Do you remember how we did this last year?' and 'Oh, I can't wait till next year when we'll be back to normal.'"
He said there was an overwhelming sense that we were in the middle of something, which he felt was in many ways a very Jewish feeling. Jews often talk about what it must have been like being slaves in Egypt or roaming throughout the desert. They also talk about the concept of next year in Jerusalem. To Isaac, Judaism is a participatory experience. He says that the Torah and celebration belong to all of us. He loves that dating back to the story of creation, Judaism has always been a partnership of us working with the divine, and that we're all expected to engage in the work and ask questions.
"By finding your voice as a congregant or as an artist, you bring your Judaism to each endeavor while bringing those skills to your Judaism. You're participating and growing the religion and enhancing the experience for everyone, and I think that's really what Judaism needs to be."
When asked why he selected UCLA Hillel as the setting for his latest exhibit, Isaac's eyes lit up.
"I went to Hillel when I was a Bruin," he told me. "With this series, I have 72 Golems and it was a lot of pieces. Hillel happens to have a lot of great space where I knew I could fit all of these pieces. I thought having it in a Jewish space was nice to underscore the fact that Golems are a Jewish construct. It's a great place for even non-Jews to show up and see the work. It seemed right to show it in LA, because the exhibit is so very specific to southern California because of my experience living here for the past two years."
We spoke about the necessity of integrating Judaism into college life. He said that in college, you're able to figure out who you are and set up your life the way you want for the first time. College gives you the opportunity to connect to Judaism in a personal way and take it with you after college, so that your connection to Judaism is personal and meaningful for you.
Paper Golems: A Pandemic Diary will have a reception at Hillel on March 1st and will run till March 11th.
"I hope that people see the work, enjoy it, and think about their pandemic story," Brynjegard-Bialik said. "What would they build their golem out of to feel safe? I hope it brings some comfort and connection for people when they see the work."