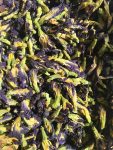 In the midst of the third wave coffee movement, coffee shops around Los Angeles are becoming increasingly seen as hipster, pretentious and even intimidating. Supa Coffee, a newly certified kosher coffee shop in the Pico-Robertson neighborhood, seeks to break this mold.
I met with co-owner Hye Young Park, who happens to be an alum of UCLA's Anderson School of Business, to review Supa Coffee. Full disclosure: going into the review, I was concerned that Supa Coffee might be a "gimmicky" sort of coffee shop with colorful drinks and trendy decor—but I quickly learned that coffee was indeed taken very seriously at Supa Coffee.
The store itself has a clean, modern look that is characteristic of many other coffee shops: an all white register in the back, a large black table for meetings in the middle and a wood bar for individual work by the storefront, reminiscent of the display tables at an Apple store.
What really sets Supa apart from all other coffee shops is their unapologetic embrace of old-school hip-hop. This theme is evident in their decor and music choice: Supa Coffee has a display case with Tupac and Biggie bobbleheads as well as tape cassettes of classic hip-hop albums such as Eazy-E's "Eazy-Duz-It" and GZA's "Liquid Swords." Above the display case, "It Was All a Dream," lyrics from the Notorious B.I.G.'s hit single, "Juicy," is written on a pink neon sign, and on the wall opposite the glowing sign hangs a large photo of the popular 1980s rap trio Run-DMC.
Park spoke about her decision to create a cafe centered around this old-school hip-hop theme saying, "For me, hip-hop bridges all races and ages, so it's a stance on our multiculturalism and sends a message to our visitors to not be intimidated. This is a place where you can enjoy high-quality coffee while having fun and feeling included."
As for the coffee itself, I was impressed. I like my coffee a little on the sweeter side, so I ordered the Iced Supa Fly Latte and was very pleased by its well-balanced taste: rich in flavor but also smooth and creamy. I was also happy to hear that the drink was not loaded with added sweetener like some other specialty lattes are (I'm looking at you, Pumpkin Spice Latte), which I find will often counteract the caffeine's effect.
Supa's hot coffees are made with butter, which some say gives a longer, more sustained energy boost. Their coffee selection is highly customizable as well: there are options to add coconut oil or even CBD to your drink. On top of their coffee, Supa also offers a selection of beverages including matcha, lemonade, and milk tea, and pastries from nearby Delice Bakery. New specialty drinks are made seasonally as well.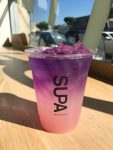 Because it was the start of the NBA season, I also sampled "The Lebron," a purple and gold drink composed of a blue hibiscus tea and sparkling lavender lemonade—a fantastic combination of sweet and sour that reminded me of childhood and would make for a great refresher on a hot afternoon if you have hit your caffeine quota for that day.
Rather than being mere gimmicks aimed at being trendy for the sake of being trendy, creative choices are made at Supa to elevate the customer's coffee experience and also act as one of the many ways that Supa distinguishes itself from your typical cafe. For example, the blue layer on top of my Iced Supa Fly Latte was not food coloring as I originally thought; rather, it was a freshly brewed blue hibiscus tea—the same tea used in "The Lebron."
I was thoroughly impressed by Supa Coffee on the whole, especially their level of commitment to their branding as a hip-hop-inspired cafe. Supa did an amazing job of executing their vision and giving their store character, successfully breaking from the mold of being the same old coffee shop.
From the unique looks and tastes of their menu items to the heavy incorporation of hip-hop into their DNA, Supa Coffee is an excellent addition to the Pico-Robertson neighborhood and certainly an experience worth checking out.
"We want to be both kosher and cool, and give people, especially young Jewish people, a fun place to go to," said Park, who added that the transition to becoming kosher was easier than she had expected and has also been a great way for her to connect to the Pico-Robertson community.
To show their appreciation for the Jewish community's support for their transition to being kosher, the owners are offering 15% off drinks if you mention "Ha'Am" at the register through the end of November. (They requested to clarify "Nation" in case the barista does not understand the pronunciation).