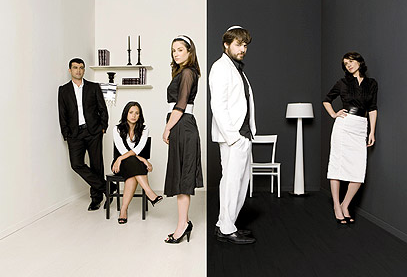 Last year, when I studied abroad at the Hebrew University in Jerusalem, I became aware of the then-popular Israeli television drama, "Srugim" (Hebrew for the knitted kippot or head coverings, normatively worn by Modern Orthodox men), which premiered in June 2008 on Israel's YES satellite network. Since our otherwise well-appointed dorms were bereft of televisions, it was not until I came back to Los Angeles that I was able to acquire "Srugim" DVD's and watch them on my computer.
Applauded for its true-to-life and nuanced portrayal of the modern-Orthodox community in Israel, the "Srugim" storyline follows five 30-something modern religious singles living in the Katamon neighborhood of Jerusalem as they strive to navigate through and negotiate the often conflicting worlds of contemporary Israel and traditional observance. Described as resembling a Modern Orthodox "Friends," the show focuses on this unique chevrah (peer group), the members of which seek to establish themselves professionally while searching for love.
The characters include Yifat, a graphic designer played by Yael Sharoni. She is often described as the "heart of the group" — sensitive and caring, although not entirely sure of herself. She falls for Nati (Ohad Knoller), a doctor at Hadassah Hospital who proves to be unfeeling and unable to reciprocate Yifat's warm gestures and hospitality. Viewers empathize with Yifat's struggle to date, overcome insecurity, and move past her romantic feelings for Nati. Another member of the cast is Amir (Amos Tamam), a charming divorcee who is forced to give up his apartment and move in with Nati. He works as a grammar instructor at an Ulpana, a seminary for girls. Amir grapples with the repercussions of his recent divorce, most notably during a scene in which a woman refuses to continue seeing him because of his tainted past. Towards the end of the first season, Amir expresses interest in Yifat, but remains cautious since he knows that Yifat has unresolved issues with Nati.
Hodaya (Tali Sharon) is a Bible student at the Hebrew University. She grew up in a religious household and is the daughter of a Rosh Yeshiva (head of a religious Academy). However, Hodaya wrestles with her religious identity and her belief in G-d. Her ambivalence is evident from the beginning of the series, when she sees her grandmother from afar and chooses not to greet her, as she is wearing pants — unacceptable for a woman in her family. Her struggles intensify when she falls for Avri, a lovely chiloni (secular man). Initially, Hodaya refuses to reveal to him that she is a datiya (religiously observant woman). She goes so far as to consume a non-kosher pasta bolognese with cheese, to avoid blowing her cover. Eventually, she divulges her secret. Although Avri proposes marriage, Hodaya feels the relationship is doomed because of their differing levels of religious observance.
Last but not least, Re'ut (Sharon Fauster) is an assertive and self-assured but often somewhat insensitive feminist who is a successful accountant at Davidyan Davidyan, one of the top firms in Israel. One of the most beautiful and touching scenes portrays Re'ut chanting the Haftorah on the occasion of her father's Yahrzeit (the anniversary of his death) before a minyan (quorum) of females, as Orthodox women are forbidden from participating in the presence of men. Shots of the group around the Shabbat table, walking to synagogue, and davening (praying) are among many affecting and poignant moments.
Jeffrey Woolf, a Bar-Ilan University expert on Orthodox Jewish portrayals in the media, illuminates how "Srugim" has traversed the lines and bridged the gap between both secular and religious viewers. He writes, "It's really the first time that the religious-Zionist community has been represented in a non-stereotyped way on television. Religious characters are usually cartoon-like in their superficiality, either because of malice or because of ignorance." He asserts that the show is important for both religious and secular reasons: Orthodox viewers are able to relate and connect with the characters. At the same time, it provides an accurate representation of the Modern Orthodox world, previously inaccessible to people of secular leanings.
However, not everyone is enthused and enchanted. Rabbi Shlomo Aviner has been quite vocal about his objection to and dissatisfaction with the program, and has discouraged his community from engaging in the pop culture phenomenon. He is disturbed by what he believes to be "questionable conduct of various dati characters on the show." Rabbi Aviner maintains that "there is bad language and licentiousness." He argues that the portrayal of "shomer negia" (refraining from touching a person of the opposite sex outside of marriage) is not depicted with sufficient consistency, and concludes that the program would benefit from "purity and modesty."
"Srugim" appropriately refrains from overt political expression. Rather, the program serves to elucidate and shed light on the community of young people who experience both ups and downs and are relatable on a human level. It does not judge the Orthodox lifestyle as right or wrong, but simply relays the pleasure these individuals feel upon engaging in religious activity, as well as the struggle and hardship with which they often contend. No one is immune to obstacles and hurdles, misfortunes and challenges — not even the striving and colorful cast of "Srugim."
"Srugim" pulls at my heartstrings. I often do not know whether to laugh or cry. I fondly reminisce and reflect on my year in Jerusalem as I nostalgically watch Yifat drinking coffee on Emek Refaim and Hodaya roaming the campus of Hebrew University — both former stomping grounds of mine. Sadly, "Srugim" ended after a tremendously successful three-season run. Nevertheless, the memories of Yifat, Nati, Amir, Hodaya, Re'ut and many of the other brilliant characters will prevail without question.