The search for a new Vice Chancellor of Equity, Diversity, and Inclusion (VC EDI) has launched since the current Vice Chancellor, Jerry Kang, announced that he would be stepping down this year at the end of his five-year term. As news of the UCLA search was disseminated, the 2019-2020 UCLA Jewish Council of Student Presidents wrote a letter in response to a call for student feedback.

The letter, sent by a broad coalition of undergraduate Jewish leaders, petitioned the VC EDI search committee to hire a candidate "who considers Jewish concerns to be of equal importance to those of other historically oppressed communities."

It continues with a detailed list of five demands the leaders would like to see met by the next VC EDI, including the establishment of mandated EDI trainings for serving USAC and Academic Senate members, the adoption of the IHRA Working Definition of Antisemitism, the formal recognition that Zionism is often a core part of Jewish identity, the provision of more kosher and halal food options on campus, and the expansion of multicultural and interfaith dialogues.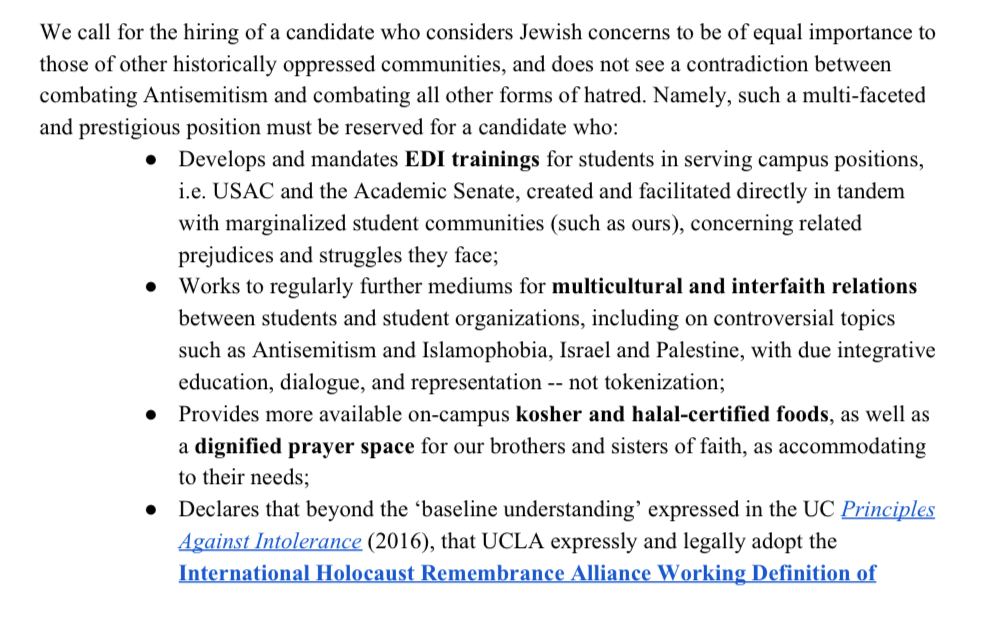 The letter was co-signed by Jewish student leaders from the following UCLA organizations: Hillel, Jewish Learning Initiative on Campus, Transfer Undergraduate Students of Hillel, Persian Community at Hillel, Jewish Pre-Health Society, Ha'Am, Students Supporting Israel, Mishelanu, the Interfaith Student Council, and the EDI Student Advisory Board.

The letter comes after a guest lecturer was accused of promoting anti-Semitism at UCLA and after eight non-Jewish UCLA student council members argued that accusations of anti-Semitism occurring during the Students for Justice in Palestine's UCLA conference were false. Both of these incidents occurred in the spring of 2019, with the backdrop of an international rise in antisemitism.

While the letter sent to the search committee has received a few positive comments, the search has just begun. Tangible implementation of the demands in the search process have been on the minds of Jewish students and faculty supporters alike. 
Lauren Hayat, the 2019-2020 Student President of UCLA's Hillel and one of the signers of the letter, was quoted as saying, "I hope that the search of a new Vice Chancellor will be one guided by student need and input. I hope that this new successor will come from a place of understanding and empathy, as well as hold a drive to bridge the various communities of our campus together. I wholeheartedly support and respect Justin for standing as a representative of our Jewish population's needs on campus, which include adding more EDI trainings for students on sensitive topics such as Antisemitism and Islamophobia, creating more spaces to engage in peaceful conversations with other faiths, and understanding that Zionism is a core belief for many Jewish students that should not hinder their experiences at this university. A Vice Chancellor who is receptive to our Jewish students' religious needs and the needs of other faiths will be the way we bring our myriad of campus communities together."
Jewish students are not the only ones who have written to the VC EDI search committee to express a desire for the hiring of a candidate demonstrably committed to the Jewish, Zionist, and Israeli communities on campus. Ha'Am Newsmagazine received a comment from Professor Judea Pearl, who sent a similar letter:
"Professor Yoram Cohen and myself, representing Bruin Professors
for Israel, have written a similar letter to
the Search Committee, requesting that candidates
clarify their plans to make Zionists and
Israeli students (and faculty) feel welcome on campus
as equal contributors to UCLA diversity.
We received a brief, non-committal reply and we have
requested more specific answers to the following questions:
1. Has the search committee decided on a strategy of
questioning candidates on anti-Zionist hostilities?
2. Has the committee decided to leave this line of questions to
individual committee members and, if so,
has the committee discussed how to ensure that the EDI
office is equipped to promote equitable inclusion of
Zionist and Israeli students in campus life?
It is hard to tell at this point if the future will bless
us with a EDI office that recognizes both our unique identity,
distinct from "Jewishness," and our right for equitable treatment.
I feel that the current state of disconnect is
partly our fault, as Jewish faculty,
for spending all those years begging protection
from anti-semitism instead of demanding a stop to
anti-Zionism — the more toxic and lethal of the two
deformities."
Judea Pearl is Chancellor professor of computer science
and statistics at UCLA and director of the UCLA Cognitive Systems laboratory. He is the father of slain Wall Street Journal reporter Daniel Pearl and president of the Daniel Pearl Foundation, which he co-founded to continue Daniel's life-work of dialogue and East-West understanding and to address the root causes of his tragedy. Pearl lectures and writes prolifically on topics including: Jewish identity, Jewish history, the prospects of peace in the middle east, and Israel on campus. He is a staunch Zionist, a supporter of equally-indigenous co-existence, an uncompromising opponent of BDS, and a strong believer in the inspirational power of Israel to save American Jewry.
UCLA's Equity, Diversity, and Inclusion website states that its mission is to "Build an equal learning, working, and living environment, by holding ourselves accountable to our professed ideals." The Vice Chancellor of Equity, Diversity, and Inclusion is meant to lead the office of EDI within this mission statement.